(AIR) with Chadwick Allen
Written by Christine Lasek-White, Assistant Director of Creative Writing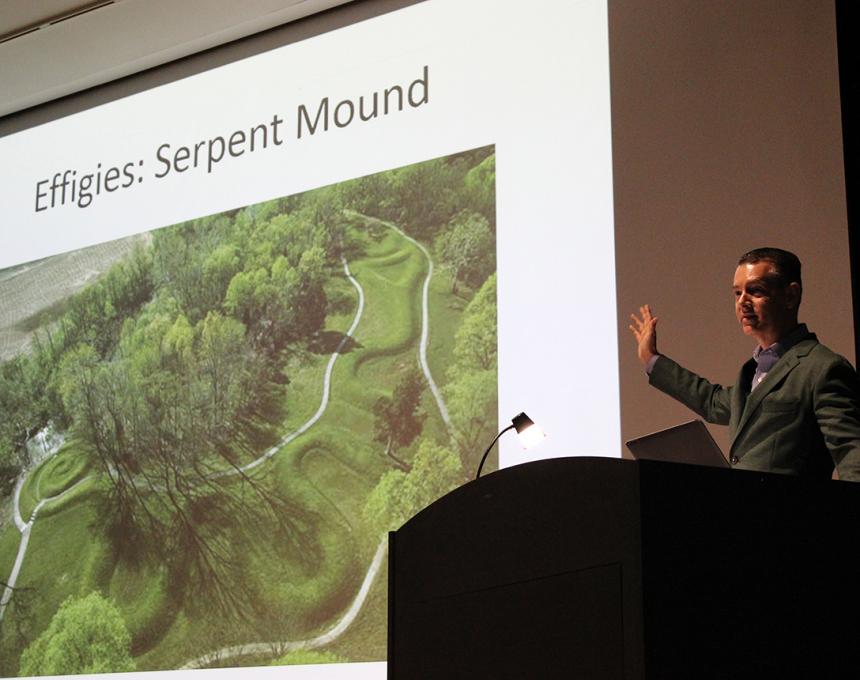 Chadwick Allen, Associate Vice Provost for Faculty Advancement and the Russell F. Stark University Professor at the University of Washington, wowed the 181 students and faculty in attendance at the Fourth Annual AIR Talk.  The event was held at M. Smith Griffith Auditorium in the Georgia Museum of Art.  Allen's talk, "Across and Through These Lands: Earthworks, Indigenous Identity, and Return" posits that the indigenous mounds dotting the landscape in the Western Hemisphere are America's first literatures.
During this talk, which was accompanied by an extensive slideshow, Dr. Allen put the work of a two artists into communication: the book Blood Run by renowned southeastern poet Allison Adelle Hedge Coke, and the photo collages of mixed-media artist Alyssa Hinton (Tuscarora and Osage).  Dr. Allen explained how his understanding and interpretation of Blood Run was both deepened and complicated by considering the imagery of Hinton's collages, specifically "Ancestral Plane," which she completed in 1998.  This exploration will be outlined in Dr. Allen's next book Earthworks Rising.
Allen's other work centers on studies of contemporary Native American and global Indigenous literatures, including other expressive arts and lifeways such as mound or earthworks. He is author of the books Blood Narrative: Indigenous Identity in American Indian and Maori Literary and Activist Texts (Duke University Press, 2002) and Trans-Indigenous: Methodologies for Global Native Literary Studies (University of Minnesota Press, 2012), and is co-editor, with Beth Piatote, of The Society of American Indians and Its Legacies (a special combined issue of the journals Studies in American Indian Literatures and American Indian Quarterly, 2013). 
AIR Talk lectures are held every year on the Autumnal Equinox, and celebrate Natives' "return" to the southeast through the work of artists, writers, and scholars.  The event is sponsored by the Edison Foundation Fund, LeAnne Howe, Eidson Distinguished Professor, the Department of English, Associate Professor Channette Romero, and Dr. Jace Weaver, Director of the Institute of Native American Studies at UGA.
Next year's AIR guest lecturer will be Sarah Deer, a Native American lawyer, professor of law at the University of Kansas, and 2014 MacArthur fellow.  Her latest book is The Beginning and End of Rape: Confronting Sexual Violence in Native America, which has received several awards.  The 2019 AIR Talk will take place on September 19, 2019.