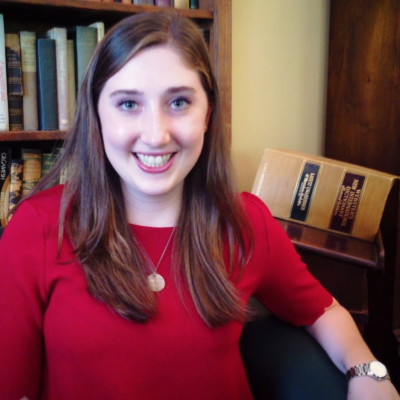 Graduate Teaching Assistant
Danielle Gilman is a fifth-year PhD candidate in the English Department. Her research focuses on twentieth-century British literature, specifically British modernism. Danielle earned her MA in English: 1850 to the Present from King's College London where she wrote her master's thesis on Virginia Woolf's "war novels" of the 1920s. 
Danielle is currently at work on her dissertation project, "Common Readers: The Literary Criticism of Rebecca West, Virginia Woolf, and Elizabeth Bowen." 
Danielle recently presented on Rebecca West's early career as a journalist at SAMLA in Atlanta, GA (Nov. 3-5, 2017), and also on Virginia Woolf's critical engagement with Walter Scott at the 26th Annual International Conference on Virginia Woolf in Leeds, UK (June 16-19, 2016). Her essay, "A Critical Heritage: Virginia Woolf, Leslie Stephen, and Walter Scott," was published in Virginia Woolf and Heritage: Selected Papers from the 26th Annual Conference on Virginia Woolf (Clemson UP/ Liverpool UP) in June 2017. 
Education:
BA from Manhattan College 
MA from King's College London 
Grants:
2018- Smith College Mortimer Fellowship
2018- Willson Center Graduate Research Award 
2018- Franklin College-University of Liverpool Doctoral Student Short-Term International Research Fellowship
2017- George Mills Harper Fund Graduate Student Travel Grant, South Atlantic Modern Language Association